Top-of-the-Line Custom Wheels in Decatur, IL
This orange custom fastback is for sale. It features a Magnuson blower as well as a one-of-a-kind fastback removable top and one-off wheels by EVOD.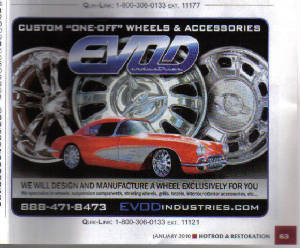 These amazing custom wheels look like original Corvette hubcaps. If you're ready to ride around in style, contact

Street Rods Only

in Decatur, Illinois, today. We have over 20 years of experience customizing our customers' dream cars from top to bottom.
Impressive Custom Wheels
When you are creating a custom car it is important for you to think about how each of the different parts will look and work together. When it comes to appearance and performance, custom wheels in Decatur, IL, can make a huge difference. The staff at Street Rods Only understands the important role that your wheels play into creating the perfect hot rod. That is why we are proud to create one-of-a-kind wheels that deliver the unique look you want for a truly customized experience.
EVOD Industries is one of the most trusted wheel manufacturers in the hot rod industry, and for good reason. Their products donít just look great--they work great too. This reputation they have built is why our team is proud to offer their custom wheels to our clients. Your hot rod deserves only the best, and we aim to deliver it to you.
With your new wheels, you are going to notice improve mobility as well as a smoother ride for your vehicle. When the overall performance of your vehicle is enhanced along with its look, then you know you have made a great upgrade to your hot rod.
Corvette for Sale
We donít just offer custom wheels for our customers. We can also help you find the perfect hot rod or corvette for sale to show off the next time you want to cruise around town. Our collection of classics and corvettes changes out regularly. Make sure you check back often so you donít miss the opportunity to own your dream car.
Contact us for more information about having new wheels customized for your hot rod. We are proud to work with fellow enthusiasts located throughout the Decatur, Illinois, area.
Wheels by EVOD Industries